Six Best Outlets To Express Your Creativity
Six Best Outlets To Express Your Creativity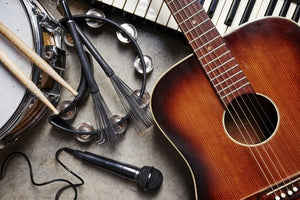 One of the challenges we face as we age is finding healthy outlets for our creative urges. It's often simple to fall into a routine and avoid any changes to it. But it's important to indulge in self-expression and share it with the world. Here is a look at the six best outlets to express your creativity.
Writing
Writing can help showcase your inner self. You can use countless unique forms of writing to express yourself, including blogging, journaling, poetry, fiction writing, and essays. Each distinct style of writing features specific benefits to match whatever message you want to share.
Art
Just like with writing, there are countless ways a person can express themselves through art. Painting, sculpting, and drawing are only a few ways that artists can showcase their talent. The beauty of art lies in each viewer's ability to find their own meaning in a piece of artwork.
Play Music
Whether you and your parents needed help selecting your first guitar as a child or you're choosing to learn a new instrument as an adult, playing music is a wonderful way to share your insight with the world. Be it through the lyrics or composition, music has a way of touching the soul.
Photography
Taking pictures is another fantastic outlet for expressing creativity you can try. Something as simple as snapping photos as you stroll around the neighborhood can be a great way of displaying your view of the world around you. Try taking pictures of the things you find meaningful to share their beauty with others.
Cooking and Baking
While many consider any moments spent in the kitchen to be a waste of time, others take great pride in showing off their creative side through their culinary skills. Making new meals, hosting friends and family for dinner, or baking the perfect dessert is a unique way of sharing your vision.
Crafting
Some people take tremendous pride in their scrapbooking and crafting abilities, using their projects as opportunities to express their creative side. Scrapbooking is a great way to commemorate important times in our lives, while crafting can reduce stress and help relieve anxiety. With a bit of dedication, some can even turn their crafting into a side hustle.