Things You Need To Start Calligraphy
Things You Need To Start Calligraphy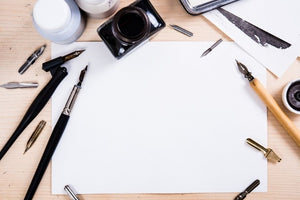 Many people associate calligraphy with greeting cards and official invitations to weddings, birthdays, and showers. Others use this art form on signage on their homes or even businesses. It takes a steady hand, skill, and practice. However, once this expressive and harmonious way of writing is perfected, it can create eye-catching works. With a few things to start calligraphy, you'll be on your way!
Calligraphy Pens
You can't do calligraphy without the pens. They normally have a holder and tip of the pen (nib). It may depend on the type of pen you get. If you're looking to produce wider lines, you'll want a larger nib. Otherwise, for a smaller set of lines, opt for a narrow nib. You'll notice a variety of sizes available as you begin to look. Nibs are used for cartridge and dip pens. Others use felt tip calligraphy markers instead. The different types of calligraphy pens include:
Cartridge Pens. You can switch the ink cartridge and change the colors whenever you want. They are available in packs with a variety of sizes and nibs. It might help to practice with these so you can try various nib sizes.
Dip Pens. Basically, dip pens consist of a holder and a nib. The points of dip pens are dipped into bottles of ink as writing occurs. It's very colonial as far as writing goes—like the first pens. They come with various nib sizes for desired line thicknesses.
Felt Tip Pens. These pens are one whole part; there's no separate nibs. They come in a variety of colors and sizes. Like ordinary markers, you can begin writing after you remove the cap.
Ink
Ink bottles will need to be acquired for dip pens. There are many types and colors to choose from. It's recommended to start with a plain black ink while in the practicing stages to get a feel for it and be able to see each mark clearly.
Paper
Beginners typically obtain a book of graph paper meant for calligraphy to be able to write in a straight line and practice steadiness. Some pads come with white paper while others contain parchment. Once you've started to build skill, you can move into a sketch book or begin to obtain stationary with different paper weights depending on if you're creating an invitation, certificate, or something else.
Calligraphy Books or Videos
Calligraphy books are a great resources recommended to help get the basics down. Books for beginners can walk you through each step for the writing of each letter and how to blend one into the next. Beginner books take it one step at a time to help you master each before moving on. You may also want to explore tutorial videos online.
Other Tools
It's idea to have a pencil, eraser, and ruler to help you outline before bolding with ink. Practicing the techniques and being able to erase is a powerful thing when you've gathered all of your supplies but don't want to waste them all on early attempts. It's going to take a lot of practice, so being able to erase is great.
Calligraphy can be much more than a hobby. It can be a lucrative business if you hone your skills and get in on the wedding market. Many people love the thought of having handwritten invitations and there is definitely room to make a business out of it. Additionally, perfecting your skills may allow you to make larger signage to sell for home décor or even beautiful and personalized greeting cards and stationery for others. Using these things to start calligraphy will get you started, where you end is up to you!