The Best Ways To Celebrate a Friendiversary
The Best Ways To Celebrate a Friendiversary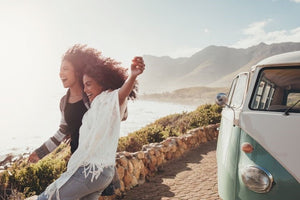 Anniversaries are no longer just for romantic relationships. Celebrating the length of the friendships you hold dear is just as important as celebrating a relationship you've held with a romantic partner. For friendships that have withstood the test of time, be sure to take a day or two every year to acknowledge and appreciate one another's friendship.  
Not sure what you and your friend should do on your friendiversary? Check out these suggestions for a few of the best ways to celebrate a friendiversary.  
Enjoy a Spa Day 
Does your friendship usually consist of seeing one another in between busy work and family schedules? If so, your friendiversary is the perfect time for you and your bestie to slow down for a day. Plan a relaxing spa day full of massages, facials, pedicures, and one-on-one time with each other.  
Visit Your Old Stomping Grounds 
Do you and your best friend go way back? Consider taking a trip to one of your favorite places and laugh about the memories you've shared there, even if it is just the local mall food court.  
Go Out To Dinner 
Take a break from making dinner for the family for a night and treat yourselves to a fancy anniversary dinner. Enjoy a glass of wine or two and recount some of your favorite friendship stories over a nice meal.  
Go on a Trip 
Though you might not have the time for a week-long extravagant trip, a weekend road trip with your best friend is still a great friendiversary option. Pick a location within driving distance that you'd both like to explore and make a few new memories as you enter another year of friendship.  
Friendships come and go in life, which is why it is so important to celebrate the ones that have made it through the good and bad times. This year, make your best friend feel special with one of these ways to celebrate your friendiversary.