Tips for Getting Married on a Rainy Day
Tips for Getting Married on a Rainy Day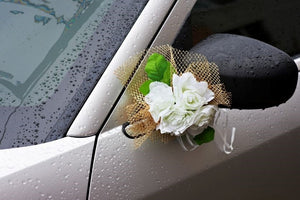 Getting married is one of the most special moments in life, but that doesn't mean it's going to avoid any problems. You should plan for the weather, especially if it's during the rainy season. Now, you don't need to cancel the big day, just follow these tips for getting married on a rainy day.
Stay Informed
The first thing you'll want to do is stay up-to-date on all weather changes and forecasts. Make sure your plans can change depending on the weather. It's also important to inform your guests about any weather changes so they can prepare accordingly.
Plan For Rain
When you're making your plans, you'll want to account for any possibility of rain. If you're hosting an outdoor wedding, you should get a dry space or have a backup location to change to. You should also closely collaborate with your vendors to make sure they can follow up with any changes to the weather.
Tents
One thing that any wedding can use to avoid bad weather is an event tent. Even in good weather, this can be a place to escape the heat. You can read up on these tips if you need help planning a good wedding tent layout.
Umbrellas
If you're worried about rain on your big day, it's a good idea to bring plenty of large umbrellas. This can help everyone stay dry for photos and getting inside. It can be nice to hand them out to guests as a present as well.
Drying Area
When planning your wedding, it's best to create an area where people can dry off and get clean. A side room or the first room they enter is a good spot to dedicate to this. Place towels or drying cloths in this area to help people dry off before the wedding.
These tips for getting married on a rainy day should help you hold the wedding you're looking for, even if the weather doesn't cooperate. As long as you make your plans with the possibility of bad weather, you'll find the big day is still perfect.